Tournament/Site Director
Chuck Musselman
ogrvity@yahoo.com


[OVR officials, club directors, assistant directors, coaches, and staff: log in for complete contact information.]
Team Entry Fee
$470
Club Directors: Make entry fee check payable to:

Chuck Musselman
797 Woodsfield Drive
Coventry Twp, OH 44319
Spectator Admission Fee
$ 10.00/day (19 years of age or older)19 years of age
or older
Date
February 3, 2024
End Date
February 4, 2024
Location
Address

Sports Dome
5617 Portage Street
North Canton, OH 44720
Online Check-In
This tournament is using Online Check-In (available 5 days prior to tournament).
Head Coaches
must use the Online Check-In.
Use the OVR Login > Continue > My Account > My Team(s)
Go to Tournament Schedule at the bottom of the team page.
Select "Online Check-In"
Make sure your roster/certifications are complete, using link on that page.
If you need to add a player or coach temporarily for this tournament,
print out the Roster for Tournament Check-In and write the additions and
submit to Tournament Director / Site Director when you arrive at the tournament.
Specific tournament details
may be distributed
at the tournament, if the Tournament Director feels that it is necessary.
Tournament Information
Please make checks payable to CHUCK MUSSELMAN and mail to:
Chuck Musselman
797 Woodsfield Drive
Coventry Twp, OH 44319
With this new system of registering teams online, please let me know if you have any questions (or even suggestions).
Welcome to the SportDome 2.0!! For those that can remember when I ran tournaments at the Dome back in the day...on old sport court...in freezing temps...with limited space around the courts...that is no more!!! Sculpt Sports purchased the Dome and did an amazing job of modernizing the facility (see the pic below), so come out and join us for the restart of OVR Tournaments in North Canton, Ohio!!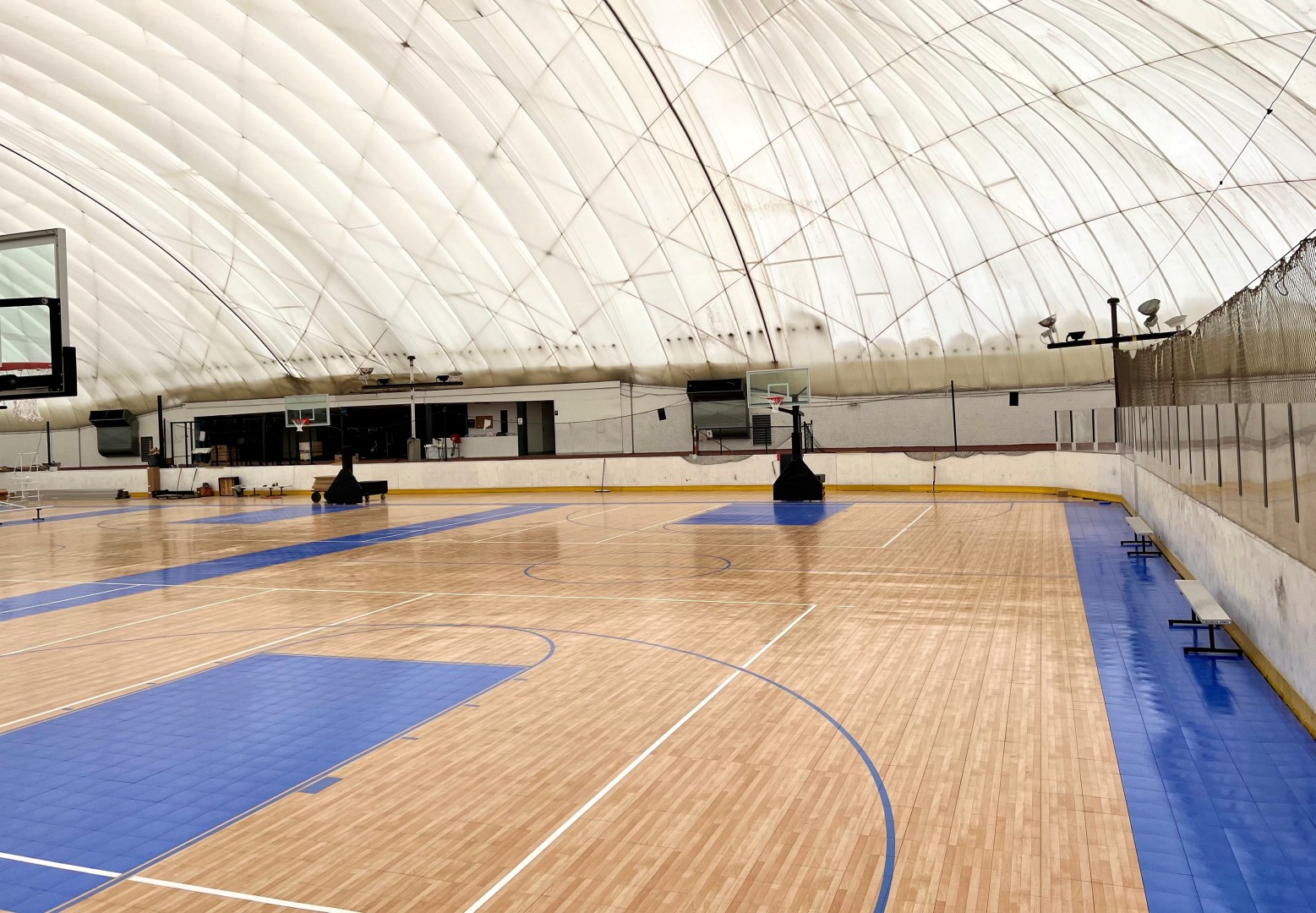 Pool play format: 6 courts, 24 teams, 6 pools of 4 teams. We will be seeding the first round of pool play in reverse for our tournaments at the Sport Dome and for the first round, teams from the same club, regardless of seed, will not be placed in the same pool. We will repool after the first pool and play the first 2 matches of the second pool on Saturday. Tournament format: All teams advance. All teams will be ranked within their second pools. All first place teams and second place teams in Pools AA, BB, CC and DD will play in the Gold tournament. All third place and fourth place teams in Pools AA, BB, CC, DD will play in the Silver tournament. The teams in Pools EE and FF will play in the Bronze tournament. Playoff positions on the tournament brackets will be based on pool finish.
Note: OVR rankings appearing in the following listings are intended only as a helpful tool for tournament directors. They are subject to frequent change, including after the pools are set, and other factors may also be considered when determining pools and order of play.
No points shall be awarded for OVR Championships or tournaments following the OVR Championships. [OVR Juniors' Seeding System]
---
Girls' 16 American: 6 pools (5 openings)
sod: 1.000
The officials' assignor for this event is Chuck Musselman (ogrvity@yahoo.com, 330‑685‑2890 /h, 330‑685‑2890 /m).

The officials' assigner has not yet named officials contracted for this event.